Kare Pan or Japanese Curry Buns are round morsels of bread dough stuffed with a curry mixture, rolled in Panko crumbs, and deep-fried to a golden crispness.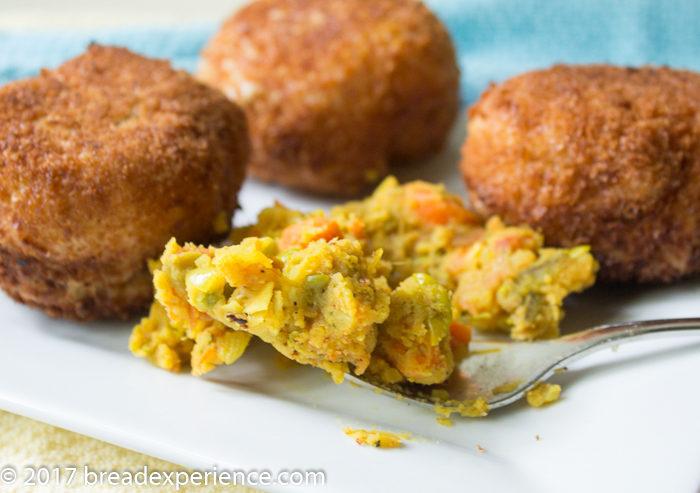 Aparna of My Diverse Kitchen is the host kitchen for April for the Bread Baking Babes. She chose these buns as the monthly challenge.
When she introduced the Babes to this challenge, she shared some interesting facts about Kare Pan and provided helpful tips so I've included some of that information as well.
As Aparna put it, the Japanese are known for adapting European bread and dessert recipes and making them something really good. They call bread "pan" after the Portuguese word for bread because it seems bread first came to Japan through trading with that country.
Kare Buns are nothing more than curry filled yeasted bread dough fold overs which are rolled in Panko crumbs and then deep fried till brown, crisp and crunchy. Perhaps this is why they are also referred to as "Curry Doughnuts!" According to Aparna, Kare Pan are somewhat like Indian Samosas or Middle Eastern Sambusak except the outer covering is bread instead of flaky pastry.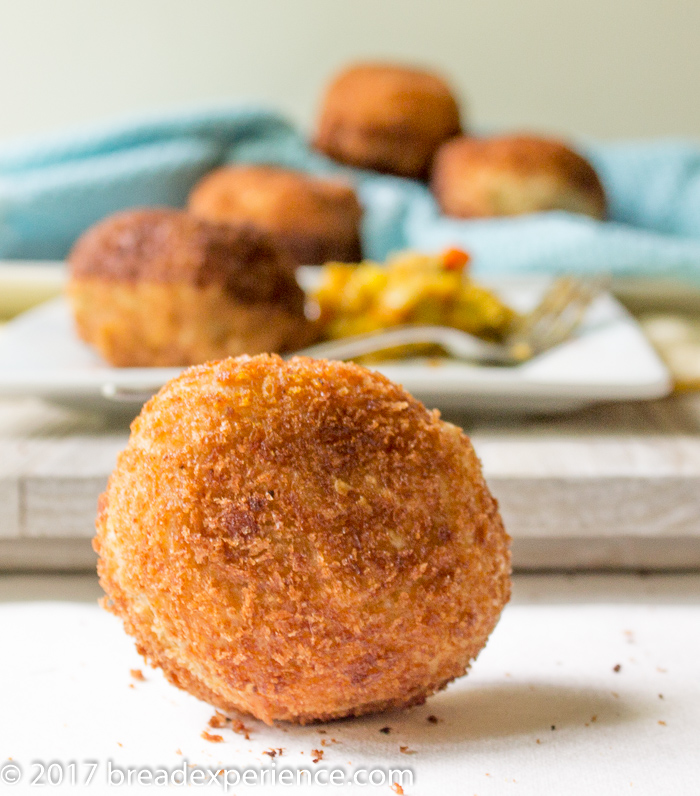 You can use any Curry filling you like (leftovers are a good way to go) but just remember to use a comparatively dry filling or the Buns will become soggy. Aparna shared her recipe for a vegetarian Indian style filling so that is what I used. The curry recipe is included with the recipe for the buns.
Aparna mentioned that her curry recipe is similar to the vegetable curry she makes for Pav Bhaji, which is a very popular and spicy Indian street food. The leftover Bhaji can be refrigerated, heated up the next day and be eaten with bread rolls or Indian flatbreads.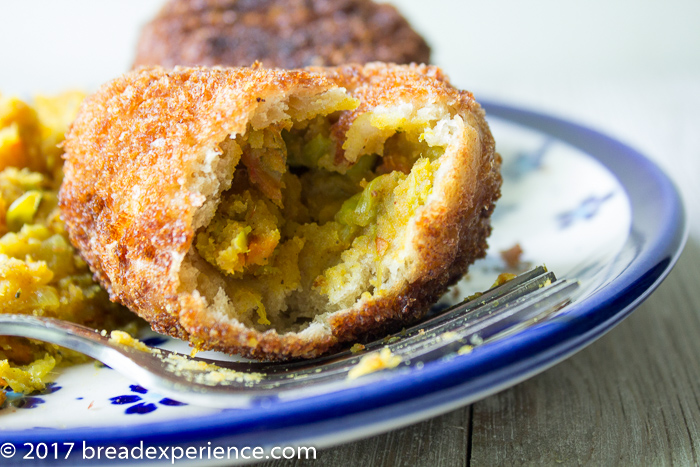 Notes (from Aparna and Cathy):
Making Kare Pan is not very difficult, and the dough comes together quite easily. However here are a few things to note:
One needs a good balance between the amount of filling and bread in these Curry Buns. It is a good idea to roll out the dough reasonably thin to achieve this, about 1/4″ thick.
The Curry filling should be dry and moist without gravy. Wet Curry will be difficult to stuff into the dough and can also leak out during deep frying.
Japanese Curry Pan can be half-moon shaped like turnovers, spindle shaped or just round balls. Round balls are the easiest so I went with that shape.
Coat the Panko crumbs well and then using your palms, press the crumbs in by rolling the balls gently between your palms (like you are shaping them into a ball). This helps to keep most of the Panko crumbs on the Buns making them crisp. The oil also had less of burnt debris from loose crumbs.
If using a deep fryer to fry the buns, the temperature should be 365 degrees F /185 degrees C.
If the oil is not hot enough, the Buns will not crisp up. They will absorb oil and become greasy and soggy. If it becomes too hot the Buns will burn without cooking. Remember the curry is already cooked so only the bread needs to cook.
If you don't have a deep-fryer or wok, you can use a large frying pan or bake the buns instead.
The dough can be stored in the refrigerator for a couple of days. Just pre-shape into balls and cover tightly with plastic.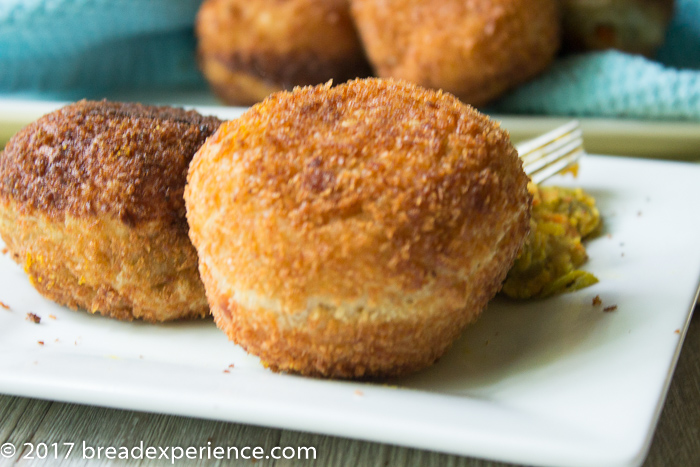 The following recipe for Kare Pan is adapted from http://mamaloli.com/recipes/entree/kare-pan-recipe-curry-bread/
I used a combination of all-purpose spelt, whole grain einkorn and all-purpose einkorn flours for the dough. However, you can substitute regular all-purpose, whole wheat and pastry flours if you prefer. Do try the curry. It has a very interesting flavor.  I really enjoyed the combination of spices used.
Listed below the recipe, you'll find information on how to make Panko bread crumbs, and garam masala, along with links to a couple of videos that demonstrate how to fry the buns. I found this information very helpful.


Kare Pan | Japanese Curry Buns #BreadBakingBabes
Kare Pan, also known as Japanese Curry Buns, are round morsels of bread dough stuffed with a curry mixture, rolled in Panko crumbs, and deep-fried to a golden crispness.
Serves:
8-12 Buns depending on how big you shape them
Ingredients
For the Dough:
½ tsp instant yeast
1 tsp sugar
1¼ cups all-purpose spelt flour, plus more for sprinkling
½ cup whole grain einkorn flour
½ cup all-purpose einkorn flour
1 tsp salt
1½ tbsp. oil
½ - ¾ cup cup water
For the Curry:
2½ cups diced mixed vegetables (carrot, cauliflower, beans)
⅓ cup frozen green peas
3 big potatoes
2 tbsp. oil
1 tsp garlic paste
1 tsp ginger paste
2 big onions, chopped fine
2 medium tomatoes, chopped
½ tsp turmeric powder
1 tsp Kashmiri chili powder (adjust to taste)
1½ tsp. coriander powder
1½ tsp. cumin powder
1 tsp garam masala
Salt to taste
3 to 4 tbsp. coriander chopped fresh (I omitted this ingredient)
To Coat the Shaped Kare Pan:
A thin almost watery slurry/ mixture of all-purpose flour and water (or two eggs beaten well)
1½ cups Panko crumbs
Oil for deep-frying
Instructions
For the Curry:
You can make this ahead or do it while the dough is rising. Steam cook the mixed vegetables and the potatoes till well done. Mash them very well and keep aside.
In a largish wok, heat the oil. Add the ginger and garlic pastes and saute taking care to see it doesn't burn. Add half the onions and sauté again it is soft and translucent. Add the chopped tomatoes and cook them till they're soft and mushy.
Use your potato masher, or a wooden spoon, to mash the onion-tomato mixture further. Cook until the oil appears on the edge.
Add the turmeric, chili, coriander, cumin and garam masala powders. Cook over medium heat for a couple of minutes, stirring often, until the raw smell of the spices disappears. Add the mashed vegetables, salt and about quarter a cup of water. Cook for another 5 to 10 minutes until everything blends into a homogeneous thick moist consistency with no gravy Mix in the chopped coriander and let it cool. Use to fill the Curry Buns.
For the Dough & Kare Pan:
If you're using instant yeast, just mix that and the sugar into the flours.
In a large bowl (or use your food processor/ kneading machine), mix together the flours, sugar, salt and yeast. Add the oil and the water. Knead well, adding as much more water (or some flour if needed) as necessary to form a smooth elastic dough.
Roll the dough into a ball and place in an oiled bowl, coating it with the oil. Cover loosely and let it rise till double in size (should take about 1½ hours or so).
Deflate the dough and divide it into equal 10 (or 12) pieces. Place them on your lightly floured work surface, cover and let them rise for about 30 to 45 minutes. Get the Curry filling ready. Also get the flour slurry or beaten egg, and the Panko crumbs all ready.
Working quickly with one piece at a time, gently press down a piece of dough and roll it out into a circle about ¼" thick. Place a generous amount (not too much) of filling in the center and bring up the side together over the filling to shape into a ball. Otherwise, fold over into a half-moon taking care to seal the edges very well. Use water or egg if necessary to seal.
Dip the dough ball into the flour slurry (or beaten egg) and then roll it in the breadcrumbs till it is coated well. If shaping into a ball. Use your palms to gently press in the breadcrumbs. Keep aside. Quickly repeat with remaining dough pieces and filling. Let them rest for about 10 to 15 minutes.
In the meanwhile heat enough oil in a wok or fryer for deep frying the dough balls. Once the oil is hot enough (365 degrees F/ 185 degrees C), gently drop 2 or 3 of the dough balls in the oil turning them over so they brown evenly. Once they're a deep golden brown (should take about a couple of minutes) remove them from the oil with a slotted spoon or spatula and let them drain on paper towels.
Serve them warm as they are or with sauce. They will be crisp and crunchy on the outside and a little bready on the inside with the filling.
Notes
No Panko Bread Crumbs, no problem! Refer to the method at the bottom of the post to make your own.

Make your own Garam Masala using the recipe at the bottom of the post.

This recipe makes about 8 to 12 Kare Pan depending on the size you shape them.
Make your own Panko Bread Crumbs
If you aren't able to find Panko, you can use breadcrumbs but Panko is better because it absorbs less oil than breadcrumbs, keeping food more crisp and crunchy. I can attest to this. I tried regular bread crumbs for the first batch and found that Panko bread crumbs worked much better.
You can easily make Panko at home from white bread. Tear day old sliced bread (with or without crust is a personal choice) into largish pieces and run it a couple of times in the processor. You'll have largish flaky looking Panko style bread crumbs.
Make your own Garam Masala
When I got home from the store, I realized that I forgot to get this key ingredient. So rather than running back to the store, I decided to see what was in it. Turns out, I had all of the spices in my cupboard already and you probably do too. So, if you're like me and don't have garam masala in your cupboard, here is an easy way to make it. Look for more info on What is an easy Garam Masala recipe?
Combine the following ingredients:
1 T ground cumin
1 ½ tsp. ground coriander
1 ½ tsp. cardamom
1 ½ tsp. black pepper
1 tsp. ground cinnamon
½ tsp. ground cloves
½ tsp. nutmeg
Mix and store in an airtight container.
Learn How to Shape/Fry the Kare Buns
Here are two videos, one in Japanese and the other in English which de-mystify the process. I didn't watch the videos until after my first two attempts. Perhaps that's why it didn't go so well to begin with. The English version provided me with the encouragement I needed to try again and also a bit of amusement. Don't skip them!
https://www.youtube.com/watch?v=o2CK4r9ROxk (Japanese)
https://www.youtube.com/watch?v=mzCIjohhwXQ (English)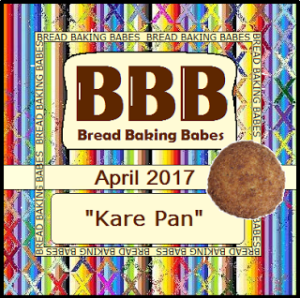 Aparna of My Diverse Kitchen is the host kitchen for the Bread Baking Babes this month. If you'd like to bake along as a Bread Baking Buddy, check out her blog for instructions
And please visit all of the Bread Baking Babes and check out their versions of this month's recipe:
Happy Baking!
Cathy

Thank you for following my blog and joining me in my bread baking exploits. I appreciate your comments. You can also find me on Twitter: @breadexperience, Pinterest: breadexperience, Facebook: breadexperience