If you want to bake crispy artisan loaves in your home oven, try using a stoneware baker. Stoneware bread bakers simulate a brick oven to give you professional bread baking results at home.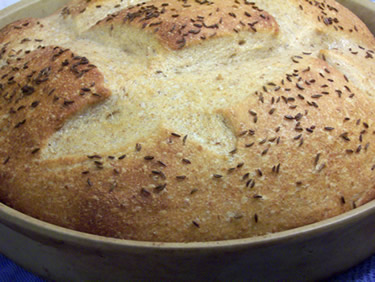 There are a number of stoneware bread bakers on the market that make it easy for home bakers to make beautiful and delicious loaves in their home oven. Here are some of our favorites.
Superstone® La Cloche
The Superstone® La Cloche stoneware baking dish is reminiscent of the ancient cooking methods used in Greece and Rome. This bread baker is a bread-lovers dream as it duplicates a professional brick-lined oven, creating a light crumb and crusty exterior. No need to soak it. Bakes round or oval loaves.
Click on image to go to product page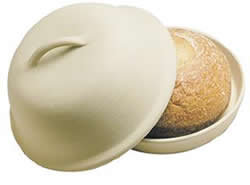 Breads baked in the La Cloche baker:
---
Classic Sourdough Bread (Baked in La Cloche)
This sourdough bread is made using the method outlined in Classic Sourdoughs.
---

Light Rye Bread
This rye bread is made with a sourdough pre-ferment of medium rye flour, water and a mature sourdough starter.
---

Tuscan Bread (Pane Toscano)
The legend goes that Italians created this bread without salt because of the high tariffs on salt generations ago.
---
Superstone® Bread Dome
The Superstone® Bread Dome is an amazing product for baking breads. The stoneware material replicates the material used for centuries by fine professional cooks as well as in homes throughout the world. The domed shape allows air to evenly-circulate around the baker for a uniformly browned crust on your bread and the unglazed lid helps create the perfect environment for baking crackly breads.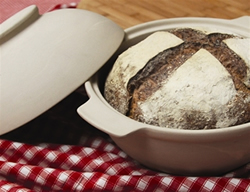 Breads baked in the Bread Dome
---

Coconut Chocolate Bread
This No-Knead Coconut Chocolate Bread is similar to the coconut-chocolate combo in Mounds bars. It melts in your mouth!
---

Shepherd's Bread
Shepherd's Bread is a simple loaf that can be baked in a clay baker, a cast iron Dutch oven, or even freeform on a baking stone.
---

Sourdough Bread in Pot
This bread is made using a very scientific, yet uncomplicated approach to making sourdough bread.
---
Superstone® Covered Baker
Superstone® Covered Baker The Superstone® Baker produces a traditional Italian loaf of bread with a very crispy crust. The Covered Baker is also terrific for fish, roasts and chicken.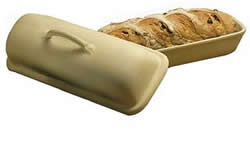 Try a Stoneware Bread Baker
Try a ceramic or stoneware bread baker for yourself. You'll enjoy the beautiful crusty breads you can make with these bakers. Click on the image below to go to the order page.