Home > Whole Grain Bread Recipes > Whole Wheat Batter Bread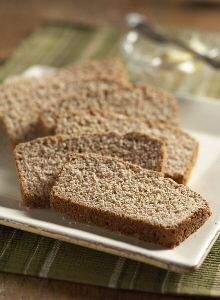 The batter for this easy and wholesome 100% whole wheat batter bread is beaten rather than kneaded.
Let the mixer do the work for you while you enjoy this healthy bread.
Whole Wheat Batter Bread
Ingredients:
4 cups whole wheat flour
2 envelopes RapidRise Yeast
2 teaspoons salt
1 cup water
1/2 cup milk
1/3 cup honey
2 tablespoons butter or margarine
Directions:
Makes: 1 loaf
In large bowl, combine 2 cups whole wheat flour, undissolved yeast, and salt. Heat water, milk, honey, and butter until very warm (120° to 130°F). Add to flour mixture. Beat 2 minutes at medium speed of electric mixer, scraping bowl occasionally. Add 1/2 cup flour; beat 2 minutes at high speed. Stir in remaining flour to make stiff batter. Place in greased 9 x 5-inch loaf pan. Cover; let rise in warm, draft-free place until doubled in size, about 1 hour.
Bake at 375°F for 45 minutes or until done. Remove from pan; cool on wire rack.
Nutritional Information:
Per Serving:
Serving size: 1 slice; 1 / 12 of recipe
Serving weight: 3 ounces (85 g) Calories 190; Total fat 3 g; Saturated fat 1.5 g; Cholesterol 5 mg; Sodium 420 mg; Carbohydrates 38 g;
Dietary fiber 5 g (1.7 g / oz); Sugars 9 g; Protein 6 g
Used with permission: Photo and recipe. Copyright © 2008 ACH Foods. All Rights Reserved.

Thank you for following my blog and joining me in my bread baking exploits. I appreciate your comments. You can also find me on Twitter: @breadexperience, Pinterest: breadexperience, Facebook: breadexperience