This Swiss Rye Ring, also known as Brasciadela, is based on a bread from the Graubünden canton in Switzerland.  The dough is prepared using a 3-stage process which combines the spiciness of rye with the nutty sweetness of wheat and builds in tangy sourdough notes, to produce a flavorful and tight-crumbed rye bread. Like other Scandinavian breads, it's circular shape makes it easy to store on poles which can be hung from the ceiling during the long winters in the Alpine region.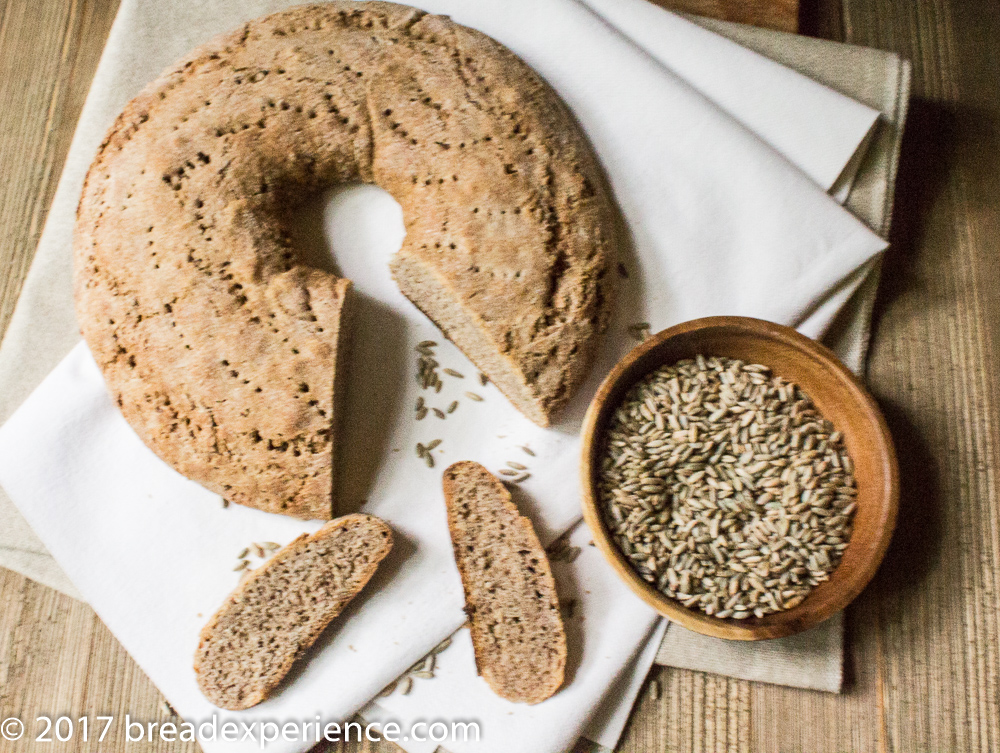 Brasciadela is the bread of the month for the Bread Baking Babes (#BBB) and I'm the host kitchen this month.
Why did I choose this bread?
I had been thinking about what bread to choose for months.
As it happened, at the beginning of the summer, I met a baker at my local farmers' market who is originally from Estonia. She has a small bakery that features rye breads and other goodies. This got me thinking about rye. I hadn't made any rye bread for awhile so I decided this would be a nice change of pace.
I had also seen Stanley Ginberg's posts on Facebook and decided it would fun to bake a bread from 'The Rye Baker' himself.  I got the opportunity to ask him personally when I attended the Maine Grain Conference this past July and took his workshop on baking with rye.  I have his book, The Rye Baker and had been waiting in anticipation for the conference so I could learn from him.
Stanley is very knowledgeable about the history of rye as well as baking with rye.  His passion for this grain has inspired me to work with it some more.
He generously agreed to let us bake one of the breads from his blog. I chose this Swiss Rye Ring because I like the shape, but also because it involves the 3-stage process – Rye Sponge, Wheat Poolish, Final Dough. It takes 13-15 hours from start-to-finish but most of that time is spent on the overnight sponge and poolish.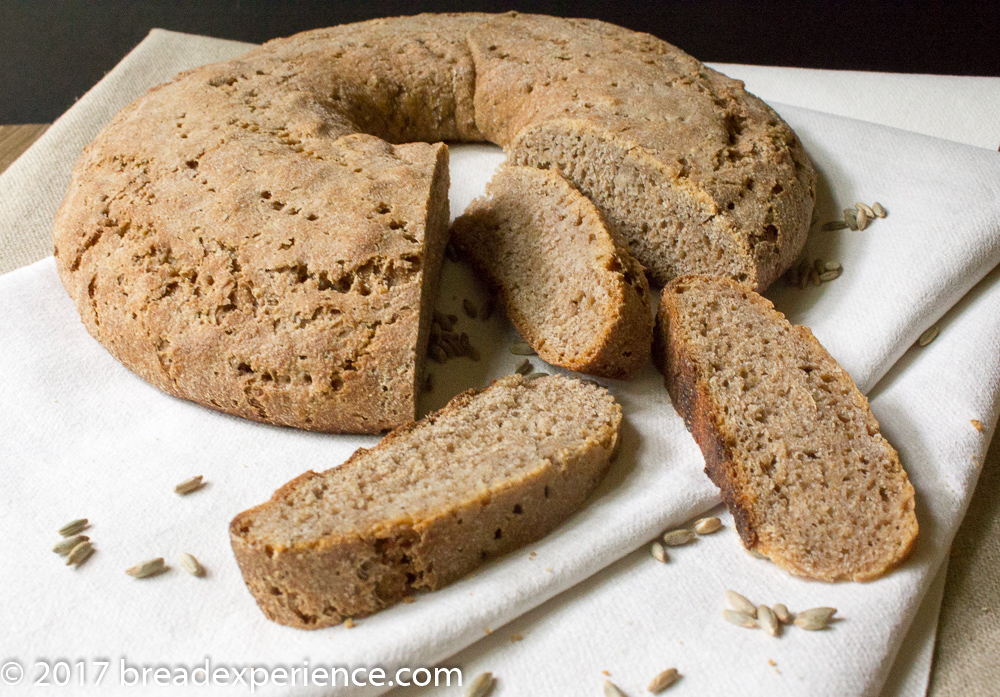 As usual, I took some liberties with my version of this Swiss Rye Ring. Instead of using a mixture of medium rye and white rye, I used Maine Grains' whole grain rye flour.  I got this flour while I was at the conference so I wanted to work with it whole instead of sifting out some of the bran and germ.  I also utilized a hi-extraction stoneground flour from Fairhaven Mill in Washington State, instead of clear flour, which is flour that has been sifted once. And lastly, I utilized my einkorn sourdough culture rather than a rye culture because I wanted to see how it would perform in this bread.
Swiss Rye Ring | Brasciadela
Adapted from Swiss Rye Ring by Stanley Ginsberg
Rye Sponge:
300 grams medium Rye Flour – I used whole grain rye
200 grams warm water
20 grams rye sourdough culture* – I used my einkorn sourdough culture
*If you don't have a rye sourdough starter, you have several options:  1) just use the starter you have (although it won't be totally authentic); 2) take some of your regular starter and feed it with rye flour for a few days to create a rye starter from your regular sourdough starter; or 3) develop a new rye sourdough from scratch.
Mix the sponge ingredients with a Danish dough whisk or wooden spoon until it forms a stiff dough, cover and let it ferment at room temperature (70°F/21°C) until doubled in volume 10-12 hours or overnight.
Wheat Poolish:
200 grams first clear flour – I used hi-extraction wheat flour
200 grams cold water
8 grams instant yeast
Mix the poolish ingredients using a Danish dough whisk or wooden spoon, then cover and refrigerate 10-12 hours or overnight.
Final Dough:
520 grams rye sponge
408 grams wheat poolish
110 grams medium rye flour – I used 295 grams whole grain rye
210 grams white rye flour – I didn't use any white rye flour
82 grams first clear flour – I used 105 grams hi-extraction wheat flour
170 grams warm water
20 grams salt
Using the dough hook on a stand mixer, combine all of the ingredients for the final dough on 2nd speed until the dough becomes a stiff, slightly sticky dough, about 6-8 minutes.  It should leave the sides of the bowl and stick to the dough hook.  Cover the dough with a towel or plastic wrap and let it bulk ferment at room temperature for 1 – 1.25 hours, or until doubled in volume.
Remove the dough to a lightly floured work surface and divide it into two equal pieces, about 750 grams each.
Take each piece and shape into a log about 18 inches / 45 cm long and 2 inches / 5 cm in diameter.  Shape each log into a ring.  Bring the ends together and brush them with water to seal.  Place on a floured-peel, or a parchment-lined baking sheet.  Alternately, you can place the ring in a floured banneton basket with a center riser.  This will impart floured rings on the dough. I tried this, but I think I used too much flour.
Cover the rings and let them proof at room temperature until they visibly expanded and the surface shows cracks or broken bubbles.




Preheat the oven to 480°F/250°C with a baking stone or steel on the middle rack and a steam pan on a lower shelf. Using a fork, chopstick or docking wheel, dock (poke) the surface of each loaf thoroughly and evenly to a depth of at least ¼ inch / 0.6 cm.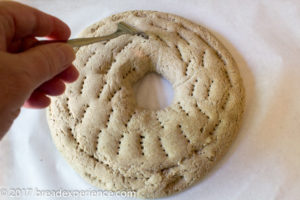 Transfer one loaf to the baking stone or steel and bake with steam for 15 minutes (I used an iron skillet with ice cubes), then remove the steam pan, and reduce the temperature to 410°F/210°C. Bake until the loaves sound hollow when thumped on the bottom and the internal temperature is at least 198°F/92°C, about 30 minutes. Let the oven preheat again and continue the process with the other loaf.
Transfer the loaves to a wire rack and cool completely before slicing.  I actually let my loaves rest for a day or two before I sliced them.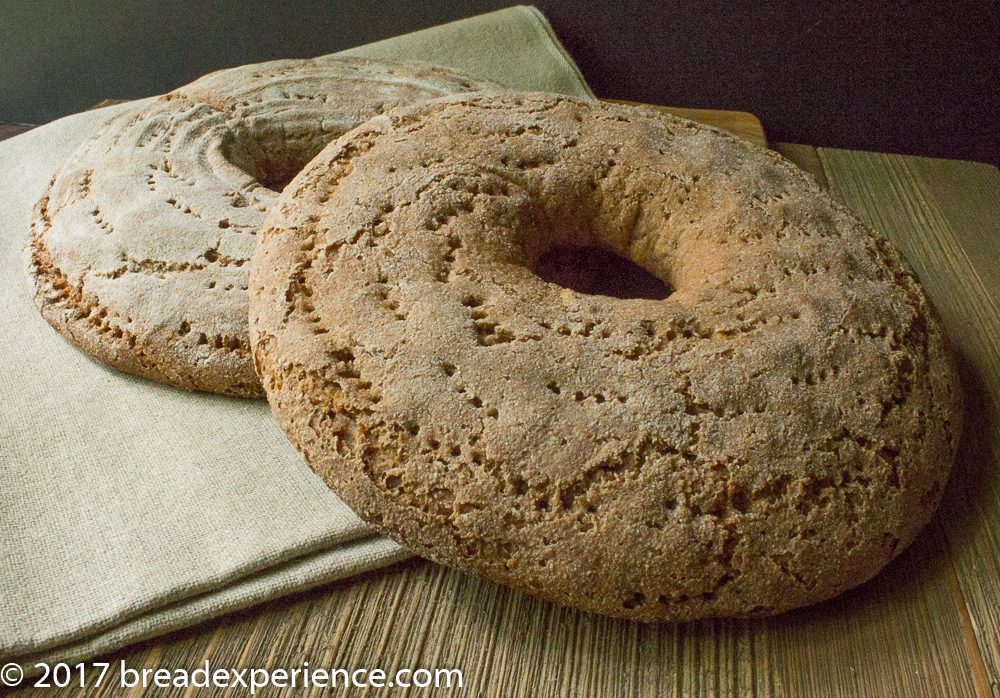 Would you like to bake along with us?
I'm the host kitchen this month, and we are baking Swiss Rye Rings.  We'd love for you to join us. All you need to do is bake this bread and send an email to breadexperience at gmaildotcom and I'll send you a Buddy badge.  If you don't have a blog, no worries, just take a photo and post it to the BBBs Facebook group.  We look forward to seeing your lovely breads.
Please visit all of the Bread Baking Babes and check out their versions of this month's recipe:
Happy Baking!
Cathy

Thank you for following my blog and joining me in my bread baking exploits. I appreciate your comments. You can also find me on Twitter: @breadexperience, Pinterest: breadexperience, Facebook: breadexperience