The bread of the month for September for the Bread Baking Babes was Brasciadela, a Swiss Bread from the Graubünden canton in Switzerland.
I really like the shape of this bread. Like other Scandinavian breads, it is circular in shape and sports a hole in the middle which makes it easy to store on poles and hang from the ceiling during the long winters in the Alpine region.
I was the host kitchen this month and it's always a pleasure to see how the other bakers interpret the bread and make it their own.  This month is no exception.  Please enjoy this round up of Swiss Rye Rings from the Bread Baking Babes and Buddies.
Shirley, of Ever Open Sauce baked along with us as a Bread Baking Buddy and made a 69% Swiss Rye Ring.  She said the bread called to her in so many ways and that making complex, robust and nutritious breads, like this Swiss Rye Ring, have been her goal in bread-making. That's a commendable goal indeed! Her Swiss rye ring looks fabulous so I would say she's well on her way to reaching that goal.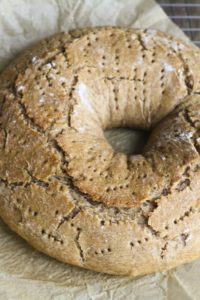 Lien, of Notitie van Lien  was a trooper this month.  Although she is allergic to rye, she baked along with us anyway and made a beautiful loaf with a tight crumb for her husband to enjoy.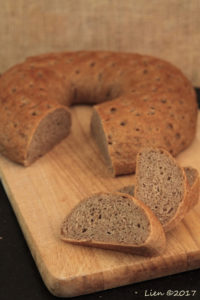 Pat of Feeding my Enthusiasms surmised that her dough seemed very stiff, but when she shaped it and let it rise, it slumped down and spread out, so she ended up with a wide, thin ring of delicious rye bread with a nice, tight crumb and a delightful crust and chewy texture.  Sounds good to me.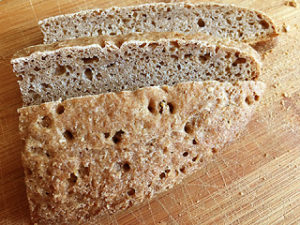 I really liked how Kelly of A Messy Kitchen shaped her Swiss Rye Ring as individual pull apart rolls.  She even docked them.  So very clever.  It's a beautiful ring with a lovely crumb.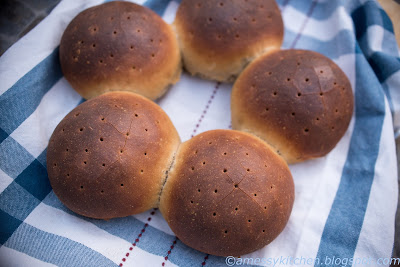 Karen of Karen's Kitchen Stories, get's the bread geek award for already having all the flours in her freezer that she needed to make the authentic version of this bread.  She ended up with a beautiful loaf and a lovely crumb.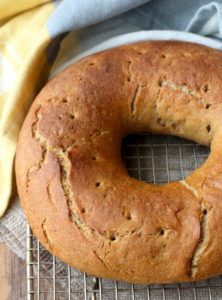 After taking a hiatus from baking for thirty days, Judy of Judy's Gross Eats revived her rye starter and joined in the fun.  I'm glad her starter returned to it's bubbly state so she could bake with us this month.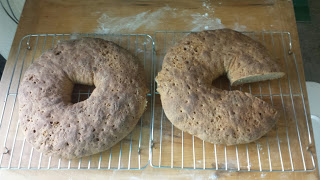 Elizabeth of Blog from Our Kitchen made an almost wild very (very) light rye bread ring. I would love to be a fly on the wall in Elizabeth's kitchen.  All of her experiments are so interesting.  And although she ran out of rye flour and killed her rye starter (or so she thought), she ended up with a beautiful bread ring.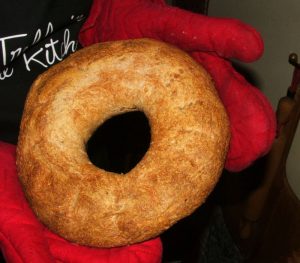 Tanna, of My Kitchen in Half Cups said that when they travel in Europe, she "… always seeks out the darkest rye breads that she can find. Always flavorful and able to stand up to flavorful meats and cheeses, the tight crumb of rye breads makes them perfect for just about anything you can put between two slices."  I think this Swiss rye ring fits the bill very nicely and her rings are perfectly formed.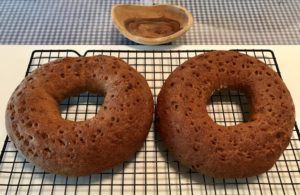 I used all whole grain rye in my Swiss Rye Ring so it turned out a bit flatter and denser than some of the other baker's breads.  I used a fork to dock it because it was really wet and I didn't want to deflate it completely.  I really enjoy the slightly sour, complex flavor of this loaf.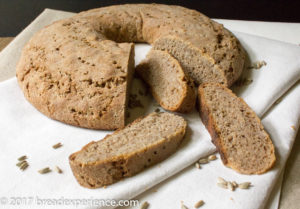 This is a simple, yet satisfying rye bread.  I want to thank Stanley Ginsberg, The Rye Baker, for allowing the Bread Baking Babes and Buddies the opportunity to bake one of his breads.
I do hope you enjoy this roundup and that it inspires you to make a Swiss Rye Ring of your own.
Happy Baking!
Cathy

Thank you for following my blog and joining me in my bread baking exploits. I appreciate your comments. You can also find me on Twitter: @breadexperience, Pinterest: breadexperience, Facebook: breadexperience