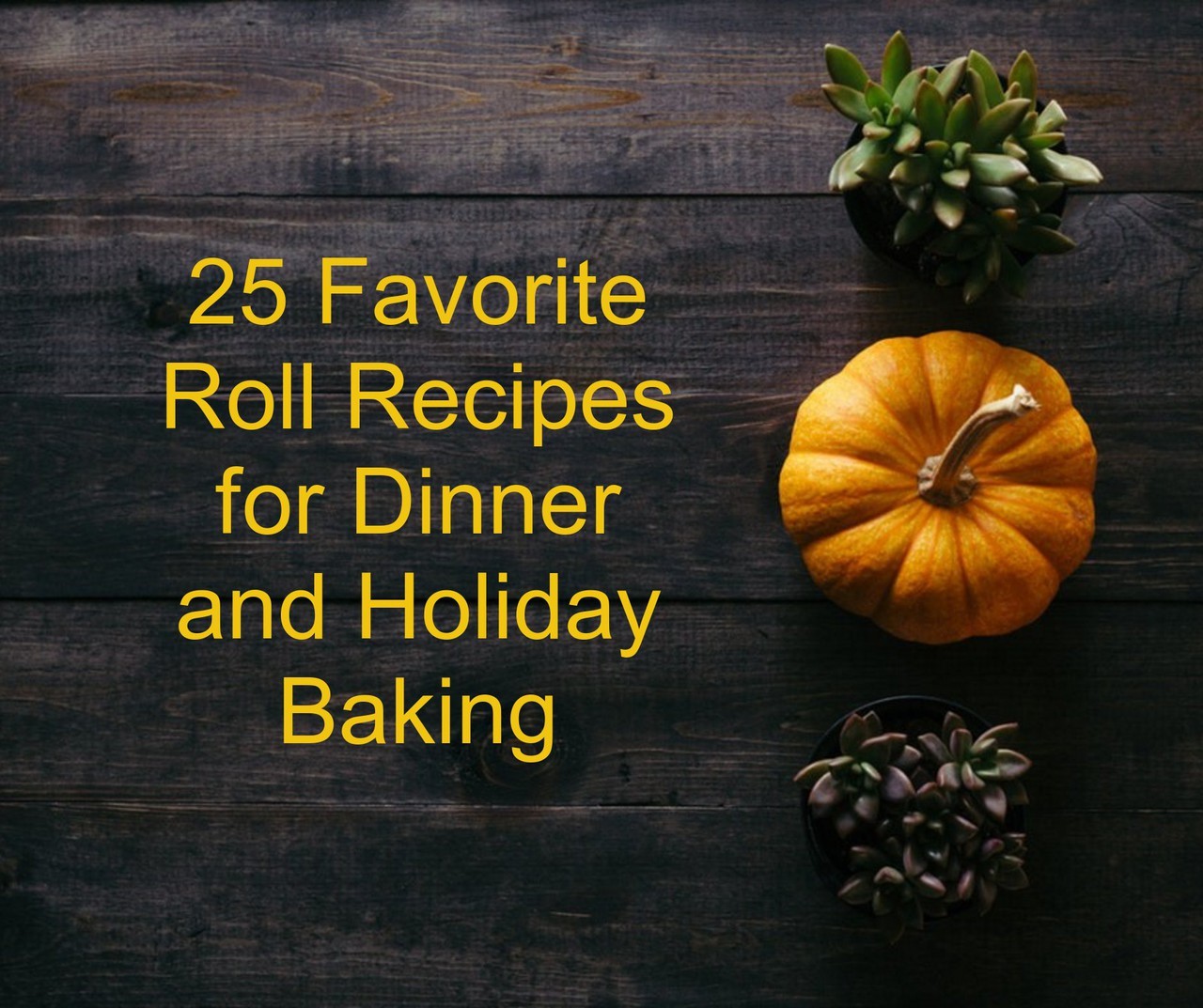 Bread has a way of bringing people together and bridging the gap.  To me, it represents family, togetherness and community.
My family's Holiday traditions growing up always involved rolls; however, the rolls were store-bought and I never really enjoyed them. It wasn't until I started making homemade bread, that I learned what a roll was supposed to taste like.
Over the years, I've made lots of rolls. I particularly enjoy creating and sharing rolls at Holidays meals.  It doesn't matter if the rolls are misshapen or overproofed, once you break one apart, slather it with butter or jam and take a bite, it's a very familiar and comforting sensation.
Since I've made so many rolls over the years, I decided to gather some of my favorites together and compile them into one post.
Here are 25 favorite roll recipes, including biscuits, crusty rolls, garlic rolls, kefir milk rolls, soft rolls, sourdough rolls, sweet rolls, Tangzhong rolls, and yeast rolls, plus a bonus photo tutorial on shaping different types of rolls.
When you gather around the table with your family and friends this Holiday Season, I hope you'll enjoy some of these rolls.
Biscuits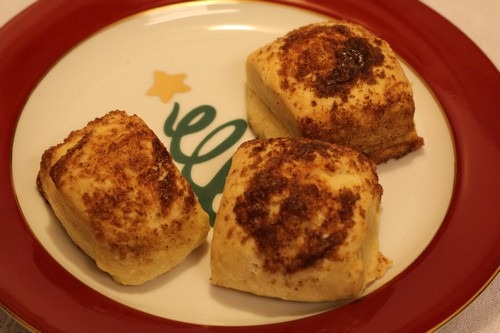 These crunchy biscuits are sort of an updated version of old-fashioned English tea biscuits.  They're not too sweet or rich. The combination of cinnamon and butter makes the perfect accompaniment for tea or coffee. They taste great warm or room temperature.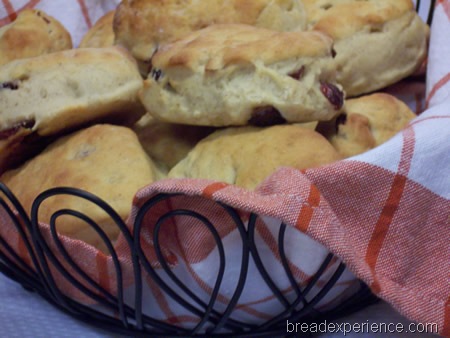 These cranberry orange biscuits have the texture of potato rolls and the flavor of orange-cranberry bread. The neatest thing about them is that the dough can be made in the bread machine. Once the bread machine is finished its dough cycle, just roll out the dough, cut it with a biscuit cutter, let the biscuits rise, then bake them.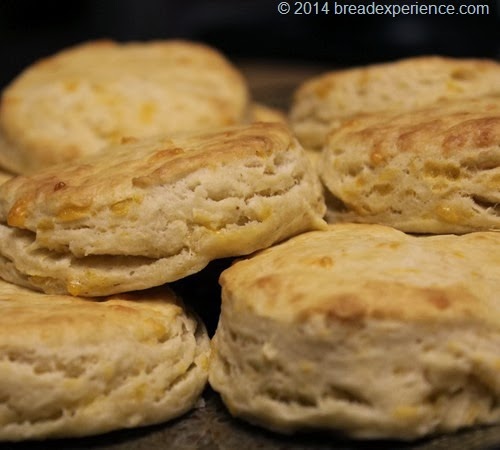 These are not your ordinary biscuits … they are melt-in-your-mouth cheddar biscuits made with all-purpose KAMUT brand khorsan flour.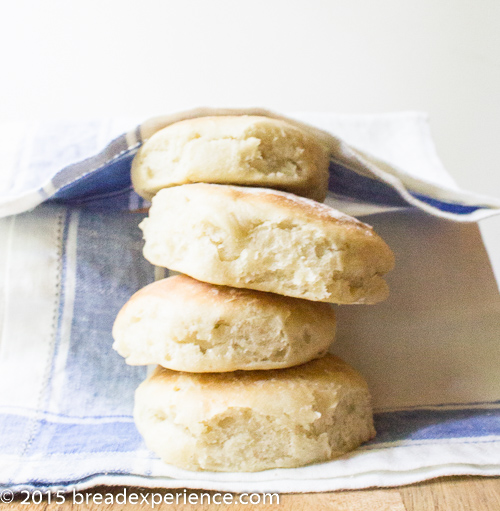 These Sourdough Biscuits are so soft and fluffy but as with any biscuit, they are best eaten fresh.  If you do end up with leftovers, enjoy them the next day toasted with butter.
Crusty Rolls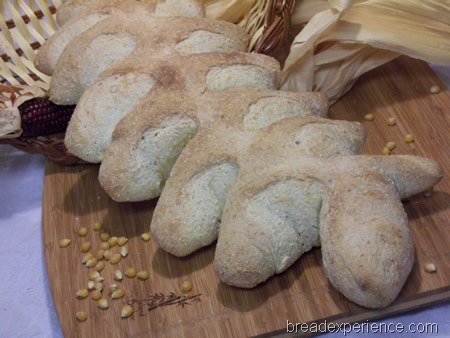 These Crusty Cornstalk Rolls, formed in the shape of a cornstalk, would make a lovely presentation for harvest time or any festive occasion. This loaf is similar to an Epi, but is shaped like a cornstalk rather than a wheat stalk. Each roll, or "ear of corn" can be torn off the stalk and eaten as you would a roll.
Garlic Rolls
Garlic Rosemary Cheese Spelt Rolls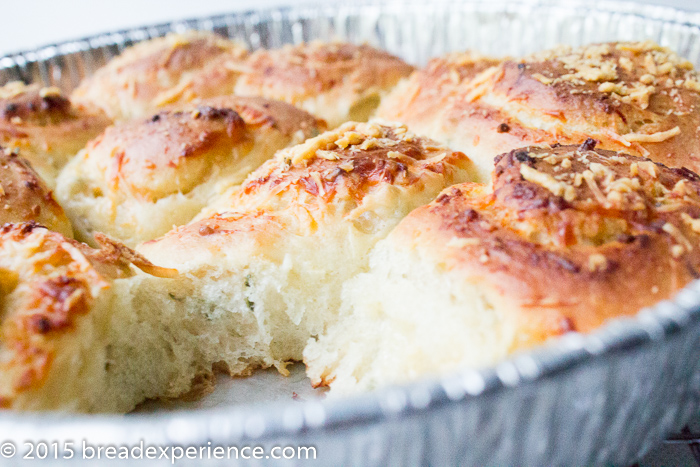 These Garlic Rosemary and Cheese Spelt Rolls, made with olive oil, garlic, fresh rosemary, Asiago, and Parmesan cheeses, are my answer to two questions: 1) How do you make cinnamon rolls without the cinnamon? 2) Why use three different leavening agents in the same bread?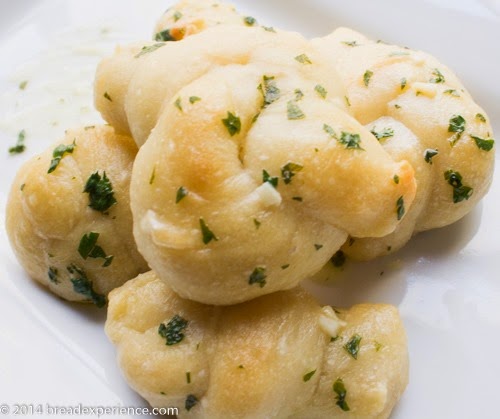 These sourdough garlic knots are very aromatic and tasty particularly with the garlic butter and parsley glaze drizzled over them.
Kefir Milk
Kefir Milk Pumpkin Einkorn Rolls baked in La Cloche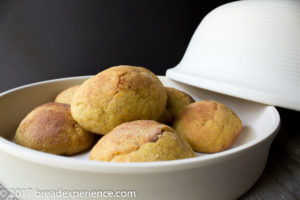 These Pumpkin Cornmeal Einkorn Rye Rolls with kefir milk are moist, slightly sweet, and nutty due to the inclusion of einkorn and cornmeal.  Baking them in a La Cloche produces a crusty exterior with a soft crumb. The first bite has just a hint of pumpkin pie spice.
Soft Rolls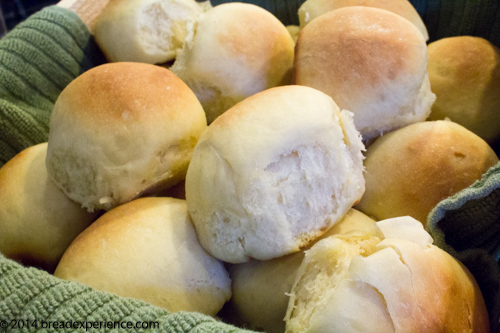 I love the mild flavor and buttery, smooth texture of dough made with KAMUT flour so I was pretty sure it would make some awesome rolls. I was right!  These KAMUT dinner rolls are heavenly soft and buttery.
Fluffy Sourdough Orange Dinner Rolls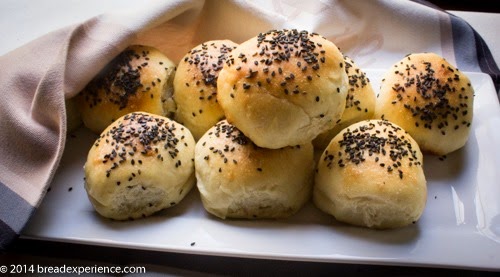 These fluffy sourdough dinner rolls include a hint of orange zest for an added zing. They are delightfully easy to make and can be scheduled a day (or so) ahead of time to be ready for your Holiday meal. If you start the dough the evening before you plan to make these rolls, they'll be ready for the final proof and bake the next morning or early afternoon.
Sourdough
Sourdough Cinnamon Rolls Surprise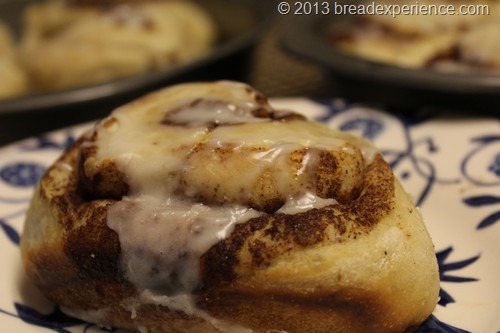 These sourdough cinnamon rolls are slightly tangy and taste really good warm, especially with a powdered-sugar glaze drizzled over them.
Sourdough Einkorn Pumpkin Crescent Rolls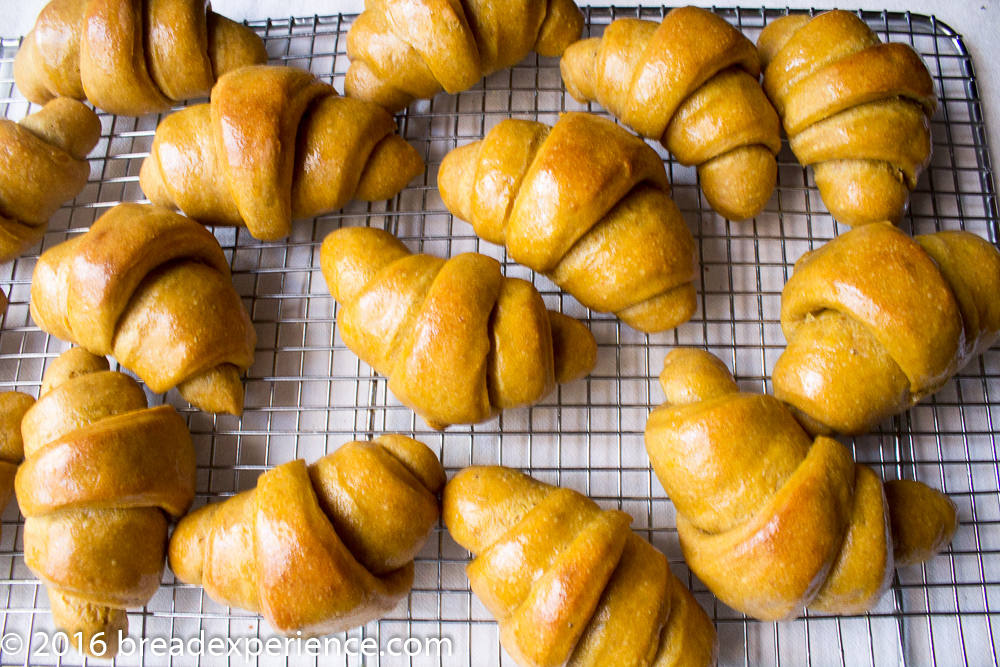 Pumpkin Crescent Rolls are one of my favorite rolls to serve for Thanksgiving Dinner because they are festive, easy to make, and taste great.  I'm continuing my family tradition with these Sourdough Einkorn Pumpkin Crescent Rolls.
Sourdough Spelt Rye Bread Rolls Baked on a Baking Stone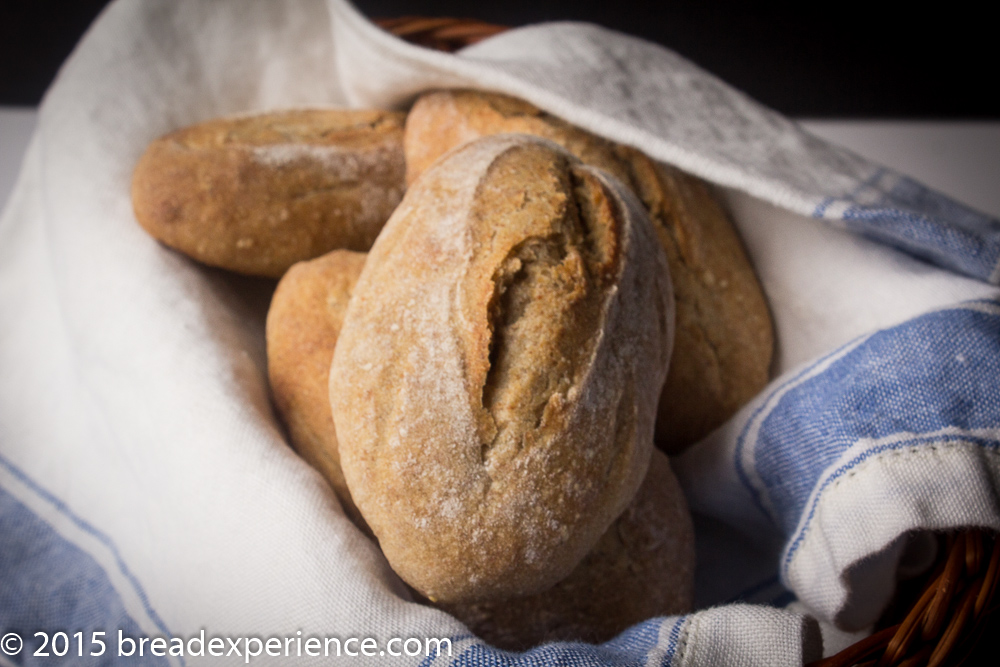 These Sourdough Spelt Rye Bread Rolls, shaped like small batards, are baked on a baking stone to produce a chewy crust. This is my version of the Hybrid Bread Rolls shared as the monthly bake (BOM) for the Artisan Bread Bakers FB group.
Making Sourdough Pumpkin Rolls and Being Thankful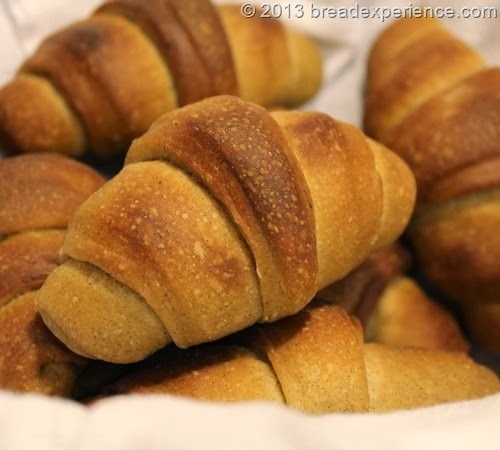 To make these rolls, I took my family's favorite pumpkin crescent roll recipe, converted it to baker's percentage and then converted it to sourdough. I created a new family favorite.  It's my Thanksgiving sourdough surprise. These beauties are made completely by hand.
 
Sweet Rolls
Whole Grain Einkorn Coconut Rolls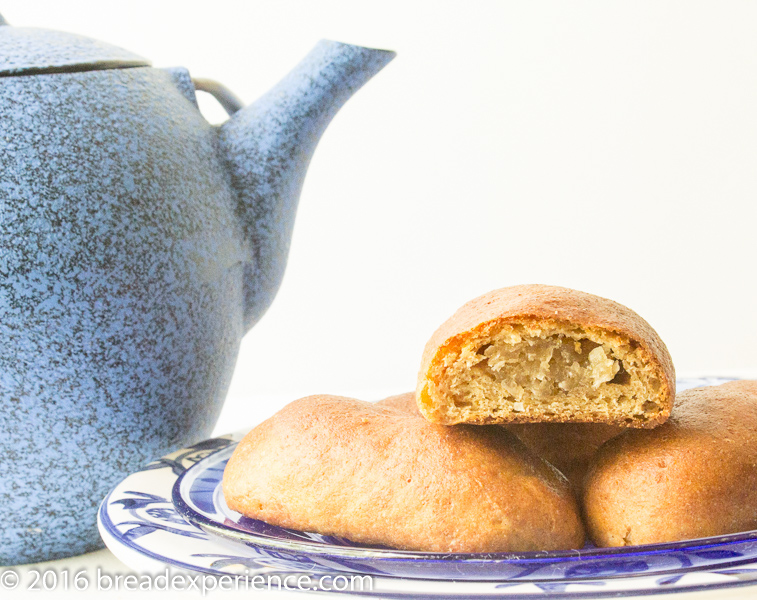 These Whole Grain Einkorn Coconut Rolls, made with whole grain pastry flour and filled with a paste of brown sugar and flaked coconut, can be served with breakfast, tea, coffee or for any occasion for that matter.
Light Wheat Frosted Cinnamon Rolls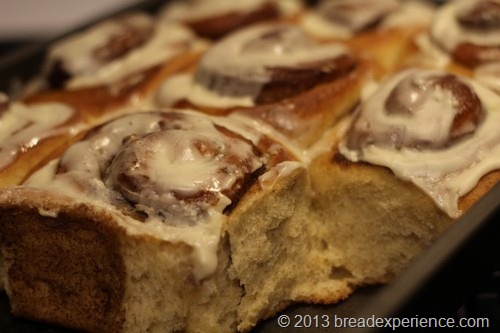 These cinnamon rolls are a hefty proposition. They are made with a mixture of white bread flour and home-milled whole-wheat flour and are plenty big. They are rolled out, spread with melted butter and sprinkled with a brown sugar/cinnamon mixture, then coiled, and sliced before the final proofing.  Finally, they are baked to a golden brown perfection, and slathered with a cream cheese and powdered sugar frosting. Are you hungry yet?
Tangzhong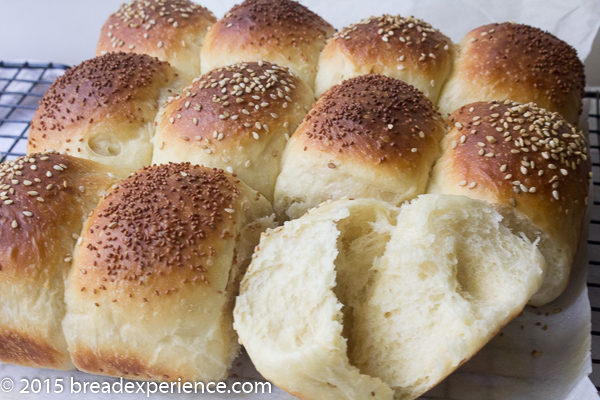 Checkerboard Tangzhong Rolls were the featured bread for the Artisan Bread Bakers FB group for September.  If you aren't familiar with the tangzhong method, you've got to try it! Tangzhong is an Asian technique developed to make breads soft and fluffy.  Also referred to as a tangzhong water roux, this method utilizes a precooked mixture of flour and water to soften the dough.
Yeast Rolls
Family Baking Traditions and Yeast Rolls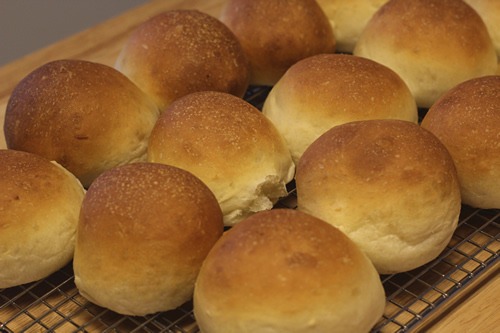 This is our favorite yeast roll recipe.  The best part about this roll recipe is that you get to handle the dough without all the work. The bread machine does the work and you get to have fun shaping the rolls and baking them in a conventional oven.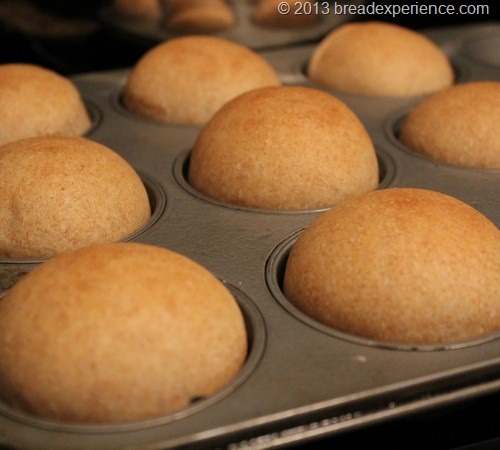 These Make Ahead Honey Spelt Rolls are super easy; the dough is prepared ahead of time and can be frozen until you're ready to bake the rolls.  You can mix the dough in your stand mixer or by hand, if you prefer.
Muesli Rolls with Oat and Seed Soaker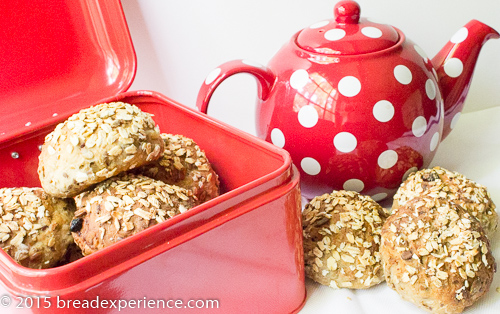 These muesli rolls are simple to make, they taste good, and they are filled with good-for-you ingredients.  They have just a hint of sweetness. Enjoy them for breakfast or with dinner or both. I like them warm with butter, but they go well with cheese and/or a smidgen of jam.
Orange Buttermilk Dinner Rolls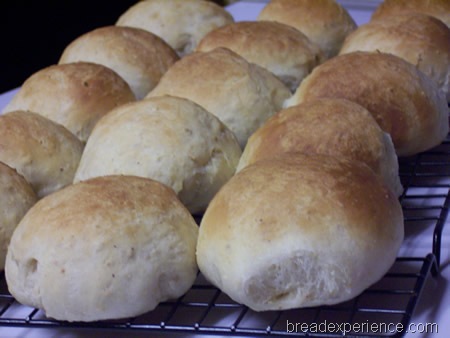 Are you looking for a special dinner roll to serve for Holiday events? I've found just the thing. These Orange Buttermilk Dinner Rolls are easy to make and taste great.  They have a hint of orange zest which adds a delicious burst of flavor. If you're pressed for time, you can make these rolls the day before.
Pocket Rolls for Dinner and a Smile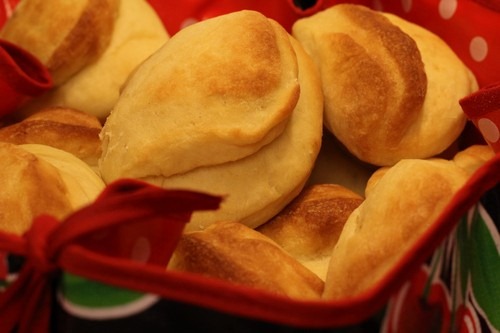 Fluffy and delicious is how I would describe these Pocketbook Rolls. They taste like a cross between a biscuit and a yeast roll; light and flaky, and oh so buttery.
Potato Rosemary Rolls with Olive Oil and Semolina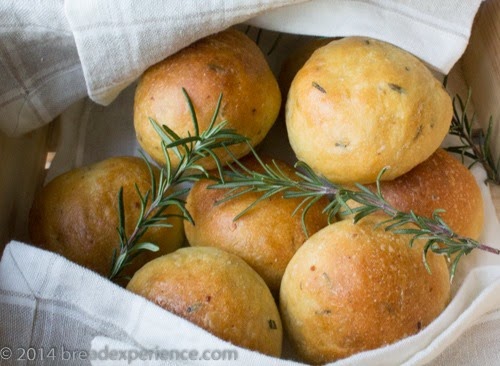 These rolls are easy to prepare and very flavorful.  They make a great addition to luncheon or dinner gatherings. They are soft due to the mashed potatoes, but a little bit crispy on the outside due to the olive oil. And rosemary, can you ever get enough of that herb?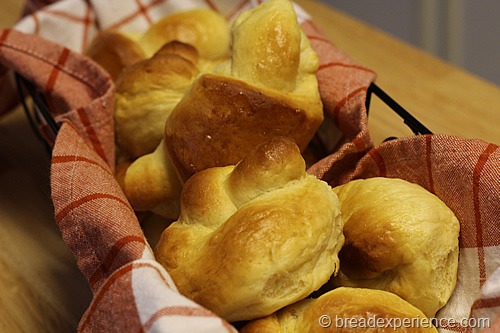 You'll like these crescent rolls even if you're not a fan of pumpkin bread. My sons would never have known there was pumpkin in the rolls if I hadn't told them. They thought there was cinnamon in them. My oldest son loves cinnamon so that's a good thing.
Quinoa Rolls with Rosemary and Onion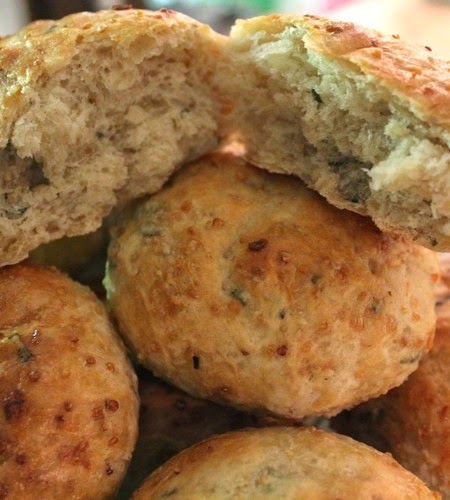 Feel free to use brown rice or wild rice in this recipe. I didn't have any wild rice so I used quinoa. I thought it gave the rolls a unique texture. These rolls freeze well if you want to make them ahead of time.
Photo Tutorial on Shaping Rolls
Shaping Different Types of Rolls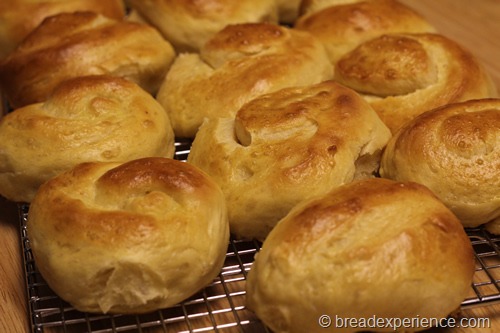 Rolls are very versatile and can be made into a variety of shapes to suit your fancy. I made several different type of rolls for Thanksgiving one year so I decided to make a separate post on how to shape them.  It's really fun to shape rolls!  In the photo tutorial, you'll learn how to shape three different types of dinner rolls: Single Knot Rolls, Crescent Rolls and Butterfly Rolls.
Happy Baking!
Cathy

Thank you for following my blog and joining me in my bread baking exploits. I appreciate your comments. You can also find me on Twitter: @breadexperience, Pinterest: breadexperience, Facebook: breadexperience