White Bean Bread with Rosemary is velvety smooth, has a nice golden brown crust and a wonderfully fine, most crumb. Not to mention a heavenly aroma due to the inclusion of rosemary.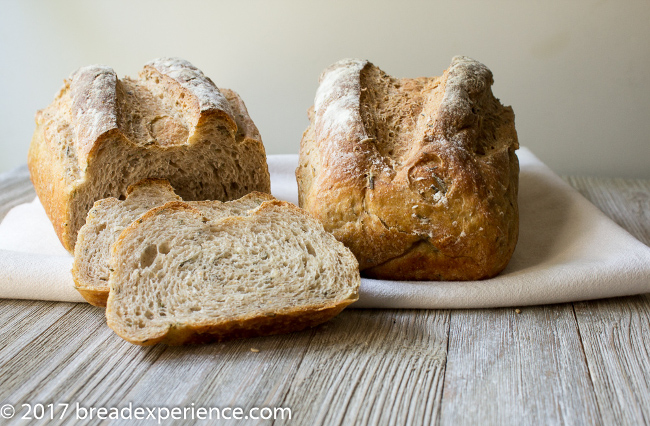 Bean bread is the monthly bake for the Bread Baking Babes.  It had me at velvety smooth. I read the description and thought, "velvety bread, now that's what I'm talking about!" However, it wasn't until I made the dough, felt it between my fingers and tasted the finished loaves, that I knew just what it meant.  It melts in your mouth! That's what it means.
I've made breads with bean flour before; however, not with bean puree.  I was already fascinated with using bean flour in breads and now I'm captivated with using bean purees. So smooth!
I used dried cannellini beans that I cooked, drained and pureed.  I typically keep these beans on hand in dried form and/or canned so I can make one of my favorite soups, White Bean Soup with Kale, whenever the mood hits.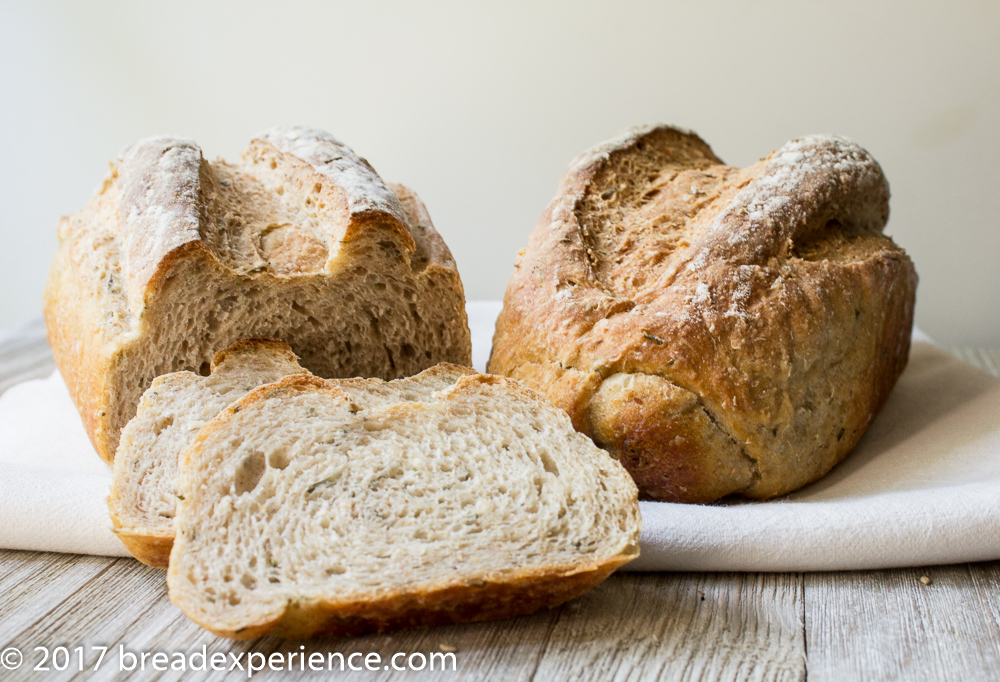 The good thing about using dried beans is that you can prepare a big batch of beans and have lots to experiment with when you want try different versions of this bread. And believe me, you'll want to try different version of this bread.
You can use any type of white bean in this bread.  If you're not sure which beans you want to use, take a look at this article (shared by Kelly, our host kitchen) which compares the different types of white beans: 4 Types of White Beans: What's the Difference?
Kelly warned us that these loaves rise quickly and can overproof quite easily.  So I reduced the amount of yeast and gave it an overnight rise in the refrigerator. Eventhough I reduced the amount of yeast, it still rose very quickly.  I also used rosemary instead of chives and sprouted red fife flour from the Maine Grain Alliance instead of regular whole wheat.
I baked these loaves in 4 x 8-inch glass pans and scored them with three vertical slashes instead of one straight down the middle.  This gave the loaves a unique "rustic" look.  In retrospect, I should've stayed with the slash down the middle. I'll try that next time.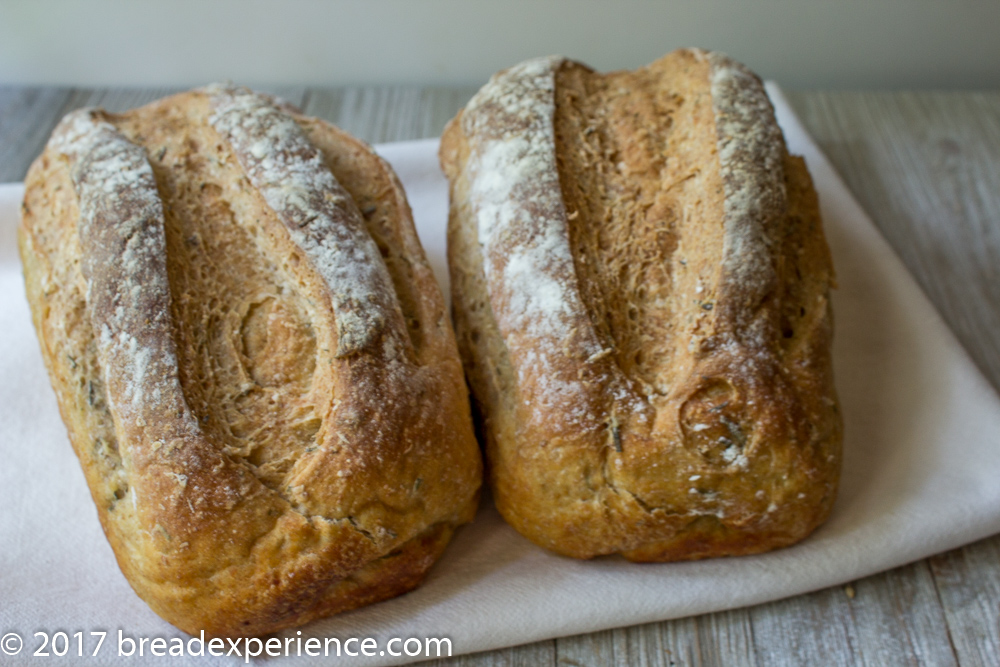 These loaves tasted fabulous! I loved the rosemary flavor and aroma.  I think a plain version would work equally well so I plan to try that and perhaps a sourdough version.  I'm looking forward to experimenting more with this bread.  The possibilities are endless!

Velvety White Bean Bread with Rosemary
White Bean Bread with Rosemary is velvety smooth, has a nice golden brown crust and a wonderfully fine, most crumb.
Recipe type:
Sandwich Bread
Serves:
Two 8x4-inch Loaves
Ingredients
1 tsp / 4 grams instant dry yeast
1 – 1 ½ cups / 250-300 grams lukewarm water, divided
2 cups / 200 grams drained, cooked or canned white beans, room temp (unsalted)
1 cup / 130 grams whole wheat flour (I used sprouted wheat)
1 tbsp / 14 grams olive oil
16 grams fine sea salt (use less if your beans are salted)
2-3 tbsp chopped rosemary (optional)
2 cups / 240 grams all-purpose flour, plus extra for sprinkling if needed
Instructions
Dissolve yeast in water. Process beans in a blender or food processor until smooth (using ½ cup of the water), then transfer to a large bowl or stand mixer. Stir yeast mixture into beans. Add the whole wheat flour and stir for one minute, in one direction, to develop the dough. Add the oil, salt, and rosemary, if using and stir them in. Add 1 cup of the AP flour and stir in. Add the remaining AP flour and knead in with a dough hook, or work in and knead by hand for about 5 minutes, until smooth.
Place dough in a bowl, cover, and let rise for 2 hours, until almost doubled in volume. (There should be about 2.6 pounds of dough.) Fold the dough after 45 minutes and again after 1 ½ hours. Let it rest on the counter for the final 30 minutes.
Cover the bowl tightly and place in the refrigerator overnight. The next day, remove the dough from the refrigerator and knead it slightly to degas it.
Alternately, proceed to the next step if you prefer to bake the loaves the same day.
Shape dough into a round ball and let it rest on the counter for 30 minutes. Divide in half. Grease two 8x4" pans. Form each portion of dough into a loaf and place seam side down in the pans.
If you are proofing cold dough, let it proof for 2 ½ hours. If however, you are proofing dough that hasn't been cold fermented, reduce the proofing time to about an hour. Watch the dough for proper rise. Check at 1 hour and continue to proof if needed.
Preheat oven to 400ºF, have a spray bottle or small cup of water ready for steam. Slash each loaf lengthwise, place in oven and bake for 5 minutes, adding steam every couple minutes with the sprayer or cup. Bake for 15 minutes, then reduce heat to 375ºF and bake for 25 minutes until rich brown with a matte finish. Turn the loaves out and check for doneness. Finish cooling on a wire rack before slicing.
Notes
Adapted from Home Baking: The Artful Mix of Flour and Tradition around the World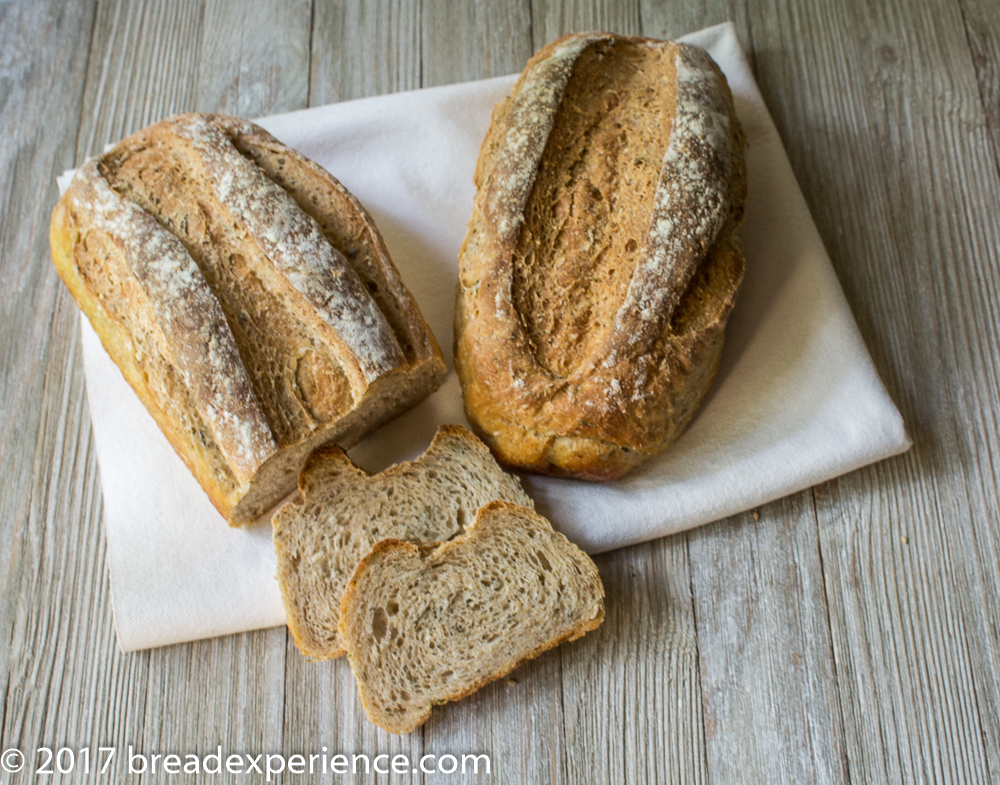 The Bread Baking Babes is a group of bloggers who love baking bread. Each month, one of the Babes chooses a new (to us) recipe, and we all post our results on the 16th of the month.
This month, the Bread Baking Babes is hosted by Kelly of A Messy Kitchen and we are baking Bean Bread. We'd love for you to bake along with us.  Just refer to the submission instructions on Kelly's post.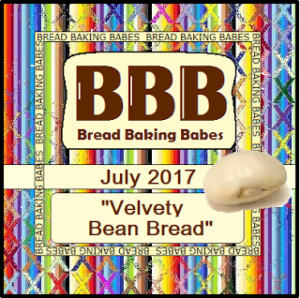 Please visit all of the Bread Baking Babes and check out their versions of this month's recipe:
Happy Baking!
Cathy

Thank you for following my blog and joining me in my bread baking exploits. I appreciate your comments. You can also find me on Twitter: @breadexperience, Pinterest: breadexperience, Facebook: breadexperience