Home > Bread Recipes > Healthy Breads
This section includes an assortment of healthy bread recipes. Many of these breads are made with whole wheat, some are gluten-free and some are made with a combination of wheat and gluten-free flour.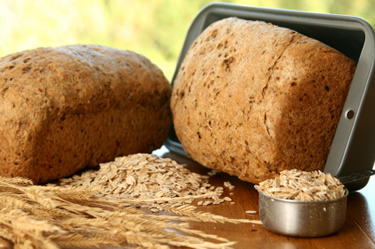 Spelt flour, kamut flour, and triticale flour can be used as an exact substitute for whole wheat flours in baking recipes, although the flavors are deeper and richer, and textures will vary slightly.

Enjoy one of these healthy bread recipes
Try some of the recipes listed below or, if you have a bread recipe to contribute, feel free to submit it.
Anadama Bread This Anadama Bread is made with the Healthy Bread in Five Minutes list of ingredients (sort of) and the soaker, sponge and dough methods from the Bread Baker's Apprentice.
Barley Bread

(from Rod in Dallas)

This Barley Bread recipe produces a moist, mild-flavored bread with a chewy interior and contrasting crust.
Challah – Whole Grain and Emmer with Apples This challah, shaped like a turban, is a delicious Fall bread made with whole wheat, emmer, apples and honey.
Einkorn Bread with an Overnight Poolish This basic whole wheat bread uses freshly milled Einkorn flour and an overnight sponge. You can also make it with regular whole wheat or spelt flour.
Einkorn Levain This bread is made with a levain of Einkorn flour and a mature sourdough culture.
Einkorn and Olive Oil Pizza Dough This whole grain pizza crust utilizes an overnight sponge and a biga.
Einkorn and Sesame Crackers These crackers are made with freshly milled Einkorn flour, sesame seeds, olive oil, and a little bit of salt and water.
Fat-Free Yogurt Bread Yogurt replaces the fat in this fat-free bread. One basic recipe can be used with a variety of ingredients.
Four-Grain Pot Bread This rustic, crisp-crusted pot bread has a light color and a subtle, grain taste. It goes with most anything.
Gluten Free Breads Many different types of gluten-free flours can be used in breads.
Kaiser Rolls These Kaiser Rolls are made with a pâte fermentée to improve flavor, texture, and color. It also utilizes diastatic malt powder to improve coloring.
Lavender Nutty Loaf This Lavender Nutty Loaf, submitted by Abu Bakar in Malaysia, is a basic, loaf with seeds and nuts and a hint of lavender.
Normandy Apple Bread with Einkorn This bread includes dried apples and apple cider. It also also utilizes a stiff levain that is built in phases.
Oatmeal Breads Oats are sweet, earthy-flavored grains; easily digestible and provide protein.
Red Lentil Bread

(from Rod in Dallas)

This recipe incorporates protein-rich red lentils (which turn yellow during cooking). After baking, this uniquely flavored bread has a chewy interior, contrasting crust and inviting color.
Rye Bread Recipes Rye breads are denser & darker, with better keeping quality than all-wheat breads.
Savory Millet Loaf

(from Rod in Dallas, TX)

Rod in Dallas created this Savory Millet Loaf to add some healthy millet to his diet.
Seed Bread A healthy and delicious seed bread from Betty-Ann in Calgary.
Spelt Breads Spelt flour can be used as an exact substitute for whole wheat flour in baking recipes.
Sprouted Breads Sprouting the wheat greatly enhances the nutrition and digestibility of bread.
Sweet Potato Bread This light loaf of whole wheat bread, submitted by Ellen in the U.S, takes hardly any effort or time.
Walnut and Seed Bread This is a very healthy bread made with whole wheat flour, seven grain flour, a little bit of white bread flour, walnuts, sesame seeds, sunflower seeds, and poppy seeds.
Whole Grain Bread Recipes Whole grain breads that incorporate a portion or all whole wheat flour.

What is Your Favorite Whole Wheat Bread Recipe?
Do you love to bake a special whole wheat bread? Share your favorite recipe and we'll highlight it on the site for other home bakers to enjoy.
What Other Visitors Have Said
Click below to see contributions from other visitors to this page…
Flax and Whole Wheat Bread
Here is a good recipe for a nice whole grain bread. I use the Cuisinart to make my bread.
Ingredients :
2 tsp. sugar
1/2 cup warm water 110 degrees …