I'm starting to like Rye Bread. I particularly like the complex flavors in this Whole Wheat and Rye Bread. The sourdough is made with freshly-milled whole-rye flour, water, and a mature culture, and the final dough is made with a mixture of high-gluten flour and freshly-milled hard white winter wheat flour, in addition to the sourdough.
The whole wheat flour enhances the flavor of the bread and when it's combined with the rye sourdough, provides good moisture retention as well as good keeping quality. In addition, the freshly-milled white winter wheat gives the loaves a golden color rather than the darker color that is achieved when using hard red winter or hard red spring wheat.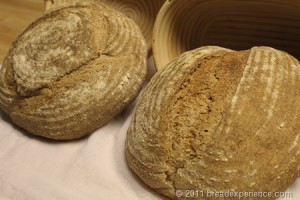 Whole Wheat and Rye Sourdough Bread
Makes: 2 large loaves
Adapted from Bread: A Baker's Book of Techniques and Recipes by Jeffrey Hamelman
Ingredients:
Sourdough:
2 1/8 cups Whole Rye Flour (I used freshly-milled whole rye flour)
7/8 cup water
1 tablespoon + 1 teaspoon mature sourdough culture
Final Dough:
3 5/8 cups High-gluten flour
1 3/4 cups White Whole-Wheat Flour (I used freshly milled flour)
1 3/4 cups Water
1 tablespoon Salt
1 teaspoon Yeast, instant dry
Sourdough (all of the above minus 1 T + 1 teaspoon)
Directions:

Hello, I'm Cathy, the face behind the Bread Experience. I'm a project manager by profession. My job can be very stressful at times and I've found that baking bread is a wonderful stress reliever.

I especially enjoy baking bread on the weekends and allowing the dough to slow ferment to bring out the flavor and nutritional properties of the bread.

Over the years, I've become enamored with grains.So you'll find me experimenting using different types of heritage and ancients grains.Sometimes it works; sometimes it doesn't, but it's all part of the experience.I invite you to join me on this bread-baking journey.