Home > Bread Making > BYOB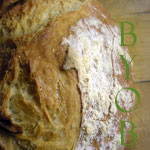 Bake Your Own Bread started out as a year long bread-baking adventure. The idea behind BYOB was that instead of running to the store to buy a loaf of bread, pastry or sandwich buns, we would make it ourselves.
BYOB has moved and is now hosted by Carola of Sweet and That's it.
Why should you bake your own bread?
Baking bread helps reduce food costs and relieve stress at the same time. Plus, homemade baked goods taste so much better than store bought. Not to mention, it's fun and so satisfying to be able to claim that it's homemade.
These days you never know when an emergency condition (weather or other) could prevent you from going to the store so this will be good practice.
Bake Your Own
Bread (BYOB) Roundups
During 2010 and 2011, we featured a roundup of all the breads the BYOB bakers made that month. Click on the links below to view the roundups.
2011 BYOB Roundup Archives
2010 BYOB Roundup Archives
BYOB is now hosted by Carola of Sweet and That's it.